Macintosh Apple Soy Candle
Regular price
$28.77 CAD
Sale price
$24.66 CAD
Unit price
per
Sale
Sold out
The Ambient Wick® brand Macintosh Apple 8-ounce soy candle offers a crisp, fresh, and intoxicating apple aroma that smells like you picked right off an apple tree. Crafted using our high-quality, classic soy blend wax, this candle is clean-burning, highly fragrant but not overpowering, cruelty-free & phthalate-free.
--
This candle does good and smells good.
Ambient Wick® is an ADAA Ally, meaning 5 percent of the sale of this item will go directly to the Anxiety and Depression Association of America at the end of this month as we do our part to support their mental health awareness programs and services. 
Ingredients

Our candles are crafted using blends of US grown soy wax, cotton wicks and the highest quality fragrance oils. We only use fragrances that are cruelty-free and phthalate free.
Return & Refund Policy

Returns are accepted up to 30 days from the date of purchase. To be eligible for a return, items must be in unused and re-sellable condition with the original packaging and all tags in tact.

In order to begin a return, we require a receipt or proof of purchase.

Please note: Gift cards are not refundable.
Shipping Info

We ship out orders 7 days a week (excluding holidays). Orders are sent via USPS Priority Mail or via UPS ground from San Antonio, TX. 

USPS Priority transit times vary per state but typically deliver within 3-4 business days. During the holiday season or around any federal holiday, USPS and UPS may experience delays. Covid-19 may also lead to carrier delays that are out of our control.
Burning your candle

Be sure to check out our candle care blog for extra information on how to increase your candle's longevity. Naturally, highly fragrant candles burn faster due to the amount of scent output.

Taking good care of your candle is key, so here's a few things we recommend:

ALWAYS Trim your candle's wick to 1/4" before lighting it again. DO NOT try trim a burning candle. Never leave wick trimmings in your candle jar, be sure to throw your trimmings in the trash.

Be sure your wick is always centered and not leaning towards any sides of your jar.

Burn your candle for at least 3 hours (not more) to allow the wax to melt to the edges of the jar to prevent tunneling.

Recycle your candle jar once it's done or keep it and use it for something fun! If you do go with something fun be sure to tag us on instagram.


In order to ensure your safety and the safety of those in your home, follow these common sense tips for safety while burning:

Don't burn your candle for more than 3 hours at a time.

DO NOT try trim a burning candle.

Never leave a candle burning unattended, near a draft, or in reach of children or pets.

To avoid an abnormal size flame, be sure not to let your wick curl over (regulartrimminghelps prevent this)

Stop burning your candle when only 1/4" of wax remains.

Don't pick up a candle, immediately after it has been put out.

Be mindful of the surface you place your candle on, even if it is heat resistant - be sure to protect it.
Share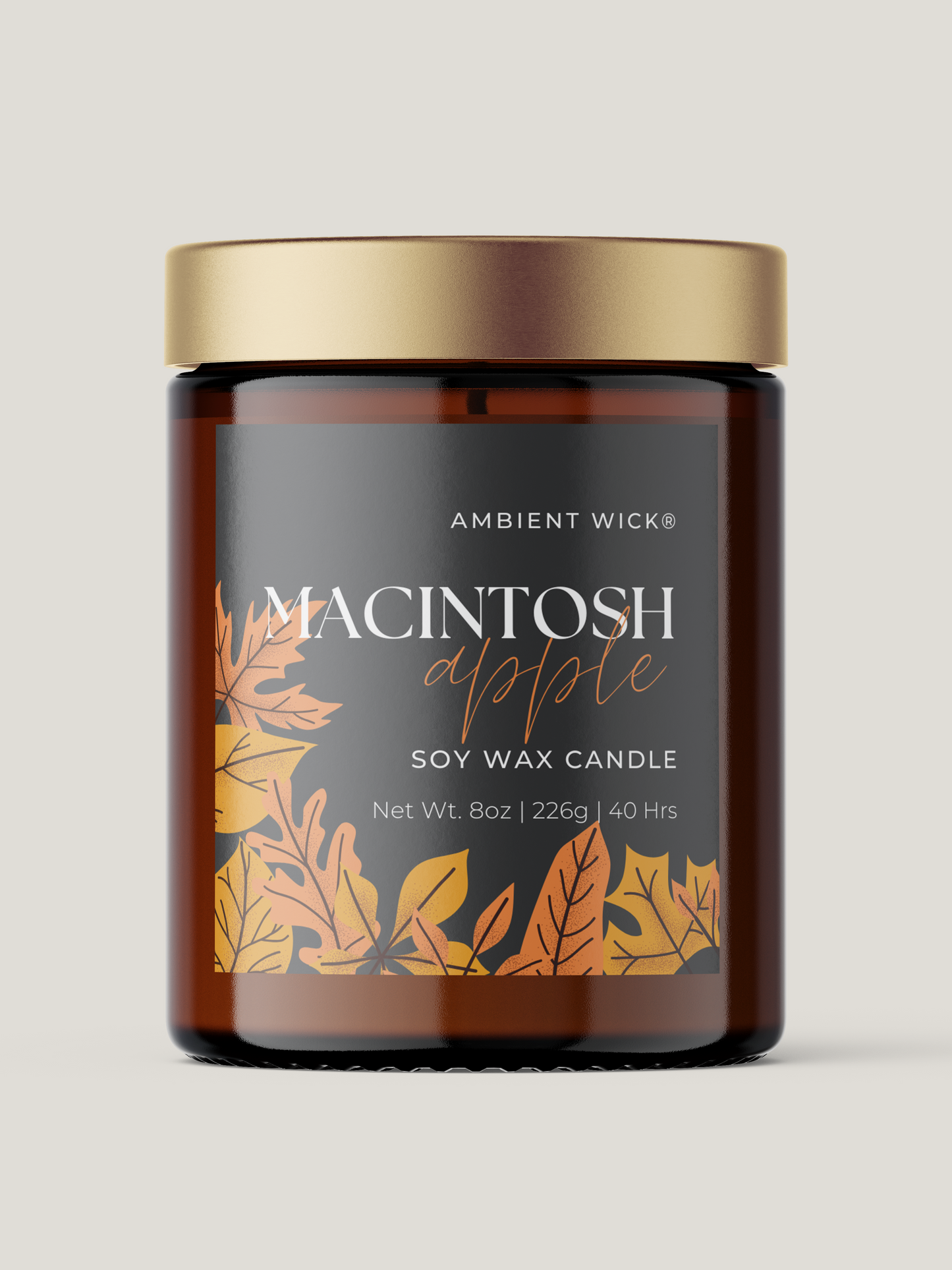 I'm a huge apple aficionado, so trust me
My favorite scents in the world are vanilla and apple. I have scoured the internet and random nook stores hidden away in various cities and towns across the US and some across the seas looking for the best representation of apple. Honeycrisp apple is my favorite smell, but really just any apple. And it's difficult you know? Some are just apple pie fragrances, others are combining apple with caramel, or the worst, cinnamon. And when I find one that's just apple, it's typically so light and airy that it goes away after an hour of being lit and I am disappointed. I know... it's an expensive hobby. I do it a lot.
Anyway, I noticed there was this apple candle so I gave it a go - I ordered two and hoped my heart out for a good apple scent. And y'all, YES. This candle is VERY, VERY long lasting - I've burned one candle consistently twice 8hrs each burn and it's still got at least 1/3? a container left. It's CONSISTENTLY apple and only apple - there's no over the top cinnamon or sugar. I've stayed in the same room and its been apple all throughout the 8 hrs each day I've burned it. No having to "reset" by turning it off and back on again. It's a GOOD apple scent, one of the truest ones I've ever really come across. True, strong, and long lasting.
It's such a good apple candle dude.
Simply wonderful
The candle smells great. Just like a delicious apple. It's very soft yet the smell covers a large area. Best candle ever. I'm moving and will be ordering more. Would like to try every single one. I'm hooked.
Awesomeness
Love the smell and look of the candle.
A Bright Tart Pop!
This candle's apple fragrance reminds me of a tart apple, like a granny smith. It's not overpowering, so you don't have to worry about room size when lighting this one up and getting overwhelmed. It's a pleasant burst of apple tart upon entering the room. I will be buying another one of these to stock up!
Surprisingly fragrant
Opening the candle the scent is light and sweet, like a perfect apple! Lighting was a bit tricky since I didn't trim the wick, but once it started going I was pleasantly surprised by how quickly the whole room smelled amazing.