Pumpkin Spice Soy Candle
Regular price
$28.77 CAD
Sale price
$24.66 CAD
Unit price
per
Sale
Sold out
The Ambient Wick® brand Pumpkin Spice 8-ounce soy candle is a true Autumnal candle, a blend of gingersnap baked to perfection, white pumpkin, and autumn spices. Layered with vanilla and Turbinado sugar, these fragrances make your home smell like the harvest moon.
Crafted using our high-quality, classic soy blend wax, this candle is clean-burning, highly fragrant but not overpowering, cruelty-free & phthalate-free.
--
This candle does good and smells good.
Ambient Wick® is an ADAA Ally, meaning 5 percent of the sale of this item will go directly to the Anxiety and Depression Association of America at the end of this month as we do our part to support their mental health awareness programs and services.

Ingredients

Our candles are crafted using blends of US grown soy wax, cotton wicks and the highest quality fragrance oils. We only use fragrances that are cruelty-free and phthalate free.
Return & Refund Policy

Returns are accepted up to 30 days from the date of purchase. To be eligible for a return, items must be in unused and re-sellable condition with the original packaging and all tags in tact.

In order to begin a return, we require a receipt or proof of purchase.

Please note: Gift cards are not refundable.
Shipping Info

We ship out orders 7 days a week (excluding holidays). Orders are sent via USPS Priority Mail or via UPS ground from San Antonio, TX. 

USPS Priority transit times vary per state but typically deliver within 3-4 business days. During the holiday season or around any federal holiday, USPS and UPS may experience delays. Covid-19 may also lead to carrier delays that are out of our control.
Burning your candle

Be sure to check out our candle care blog for extra information on how to increase your candle's longevity. Naturally, highly fragrant candles burn faster due to the amount of scent output.

Taking good care of your candle is key, so here's a few things we recommend:

ALWAYS Trim your candle's wick to 1/4" before lighting it again. DO NOT try trim a burning candle. Never leave wick trimmings in your candle jar, be sure to throw your trimmings in the trash.

Be sure your wick is always centered and not leaning towards any sides of your jar.

Burn your candle for at least 3 hours (not more) to allow the wax to melt to the edges of the jar to prevent tunneling.

Recycle your candle jar once it's done or keep it and use it for something fun! If you do go with something fun be sure to tag us on instagram.


In order to ensure your safety and the safety of those in your home, follow these common sense tips for safety while burning:

Don't burn your candle for more than 3 hours at a time.

DO NOT try trim a burning candle.

Never leave a candle burning unattended, near a draft, or in reach of children or pets.

To avoid an abnormal size flame, be sure not to let your wick curl over (regulartrimminghelps prevent this)

Stop burning your candle when only 1/4" of wax remains.

Don't pick up a candle, immediately after it has been put out.

Be mindful of the surface you place your candle on, even if it is heat resistant - be sure to protect it.
Share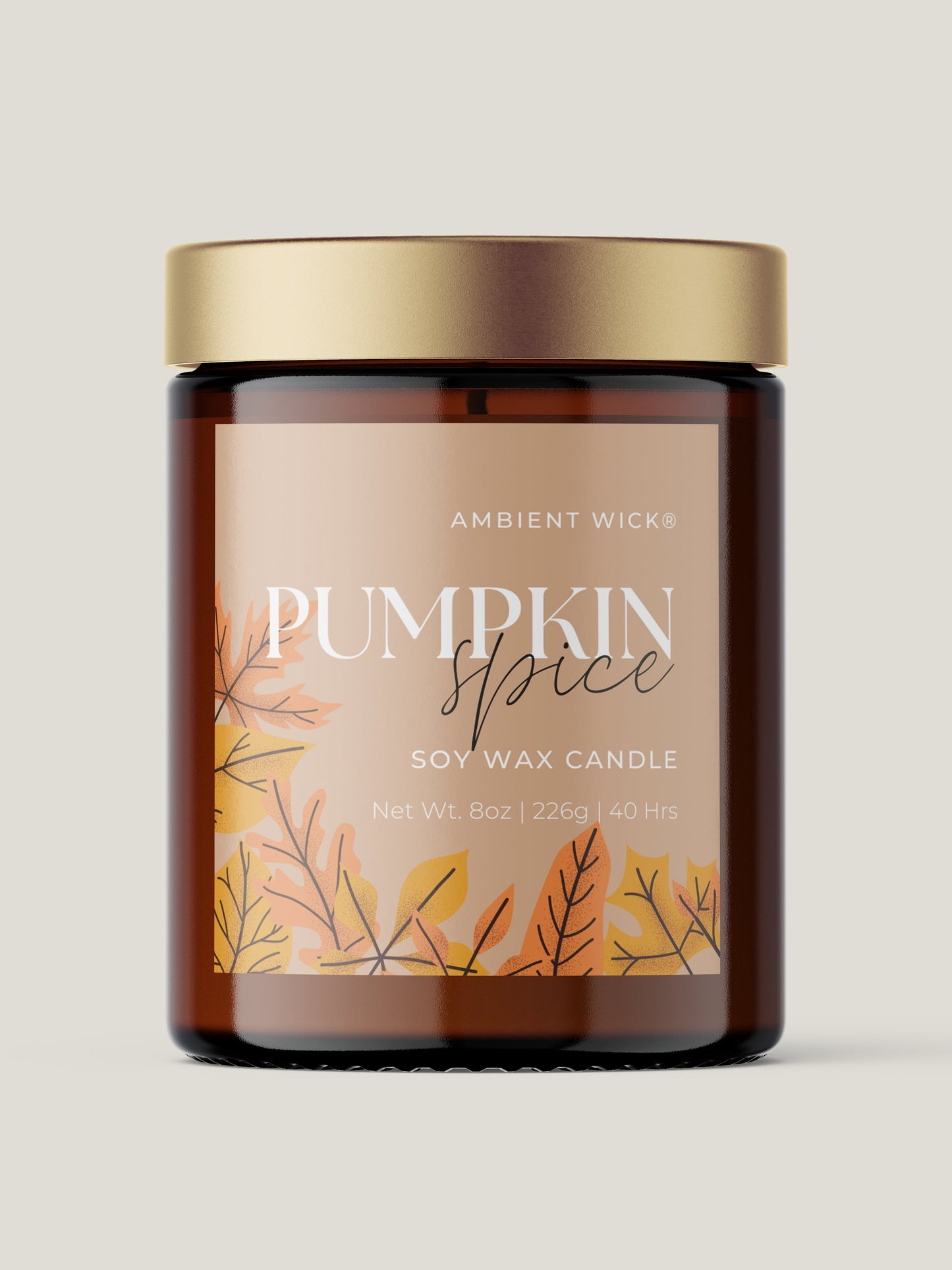 Pumpkin Spice go to
My go to pumpkin spice candle since last year! Never disappoints.
Amazing!! - You'll LOVE the scent, I promise
As a huuuuge fan of vanilla, I was seeking a new candle to put out for the fall season that wasn't "too pumpkin" or "too sweet, pancakey" - you know? Those really, really sugary candles that are overwhelmingly frosting or cake. This candle is a beautiful blend of vanilla and random pumpkiny/autumny smells/spices without an extreme dose of sugar frosting cupcake. I sometimes have to put out those other candles because of how strong the sweetness is - not this. I've loved the candle and left it lit for hours without getting headaches or overwhelmed.
Hocus Pocus
I love, love, LOVE this candle. The smell of sage is so refreshing! Will definitely be ordering more.